Skip to Content
Smooth Wrinkles with Radiesse in Santa Clarita, CA
Just as your age does not define the person you are, neither should wrinkles or other visible signs of aging. Take back control over your appearance and fight the signs of aging with the help of Faces Cosmetic Lasers Center. We offer Radiesse treatments at our Santa Clarita, CA to smooth facial wrinkles and reduce signs of aging in the hands. Radiesse is an FDA-approved dermal filler that produces natural-looking and long-lasting results. Contact us today to learn more about this treatment option. We can set up a consultation where we will discuss your desired results and determine how we can best help you reach them. Now is the time to reclaim your youth and your confidence.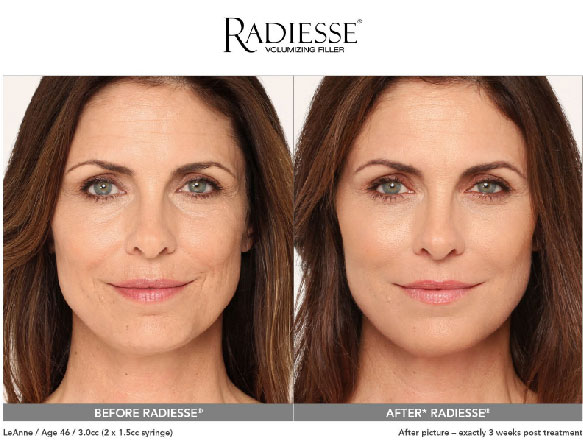 How Radiesse Helps to Reduce Wrinkles
Collagen is one of the main structural proteins present in our skin. It is what gives skin its youthful appearance, keeping it firm and tight. The production of collagen in the body slows down as we age, which causes the skin to wrinkle, sag, and lose the plump, tight look of its younger days. Radiesse acts as a collagen stimulator, helping the body to continue to produce collagen even when the natural aging process begins to slow it down. When injected into the skin, Radiesse encourages the growth of new collagen, plumping up areas that have started to sag and wrinkle and giving you a more refreshed appearance. You'll achieve the youthful look of years past with Radiesse treatments from Faces Cosmetic Lasers Center.
Talk to Our Professionals
Are you interested in learning more about Radiesse treatments? Now is the time to speak to one of our medical professionals to learn how this treatment can help you reduce wrinkles. Our team is led by two doctors who will ensure your treatment is completed safely and effectively. We're always available to answer any questions and provide additional information about the procedures we perform. Contact us today to set up an appointment and start fighting the signs of aging.
Schedule Your Consultation Today!